Virtual Email Servers
Save your money, time and the risk to run your own email server. Our email hosting service DomBox.com provides you with an email server that covers all your needs, without having to make a large investment.
DomBox.com lets you manage all the email addresses of your domain over the Internet, just as if you would operate your own mail server:
Setup, change, delete mailboxes
assign individual mailbox sizes.
Define forwarding addresses (e.g. info@yourCompany.com forwards incoming emails to john.smith@yourCompany.com etc.).
Define access rights.
Define a budget per user for pay-per-use forwardings such as SMS, fax or pager.
Each mailbox account is based on our swissmail.org service.
DomBox screen shots: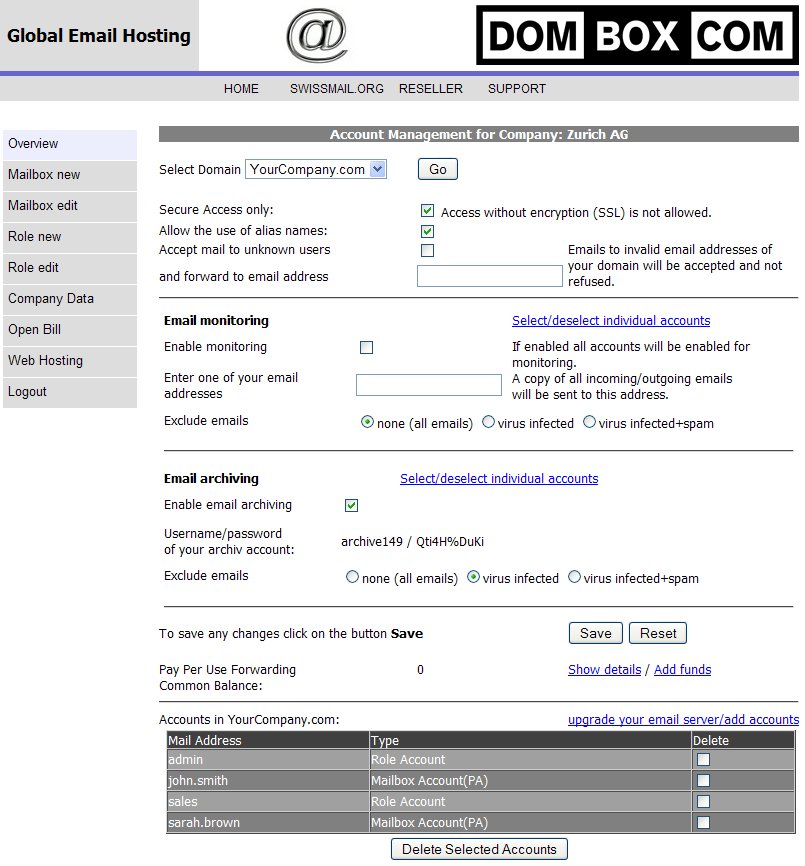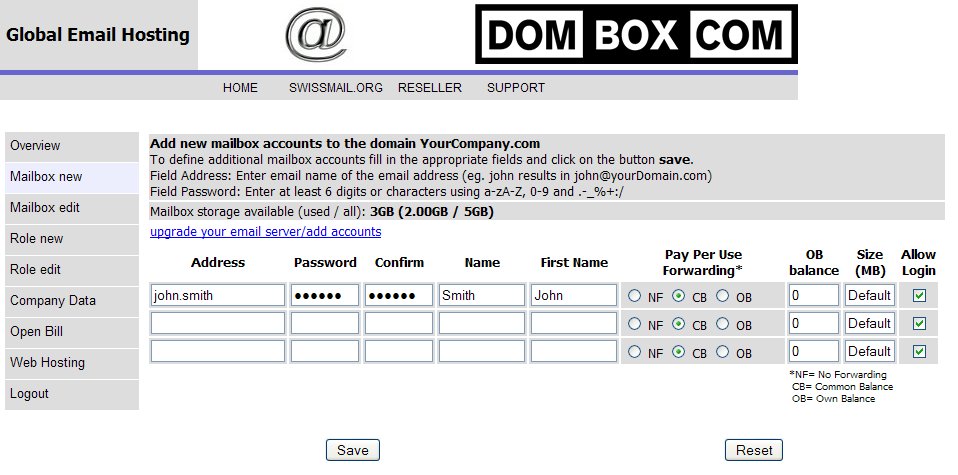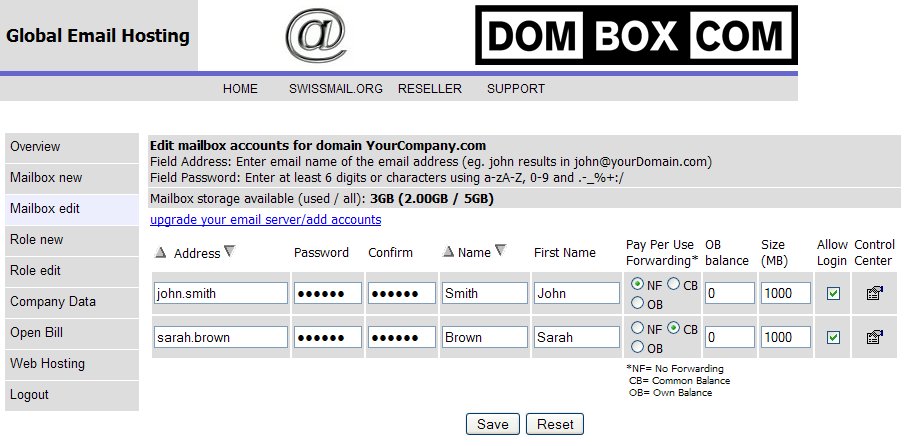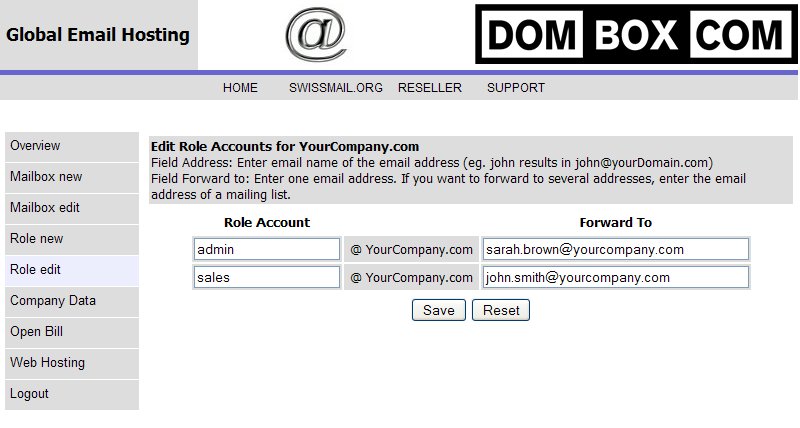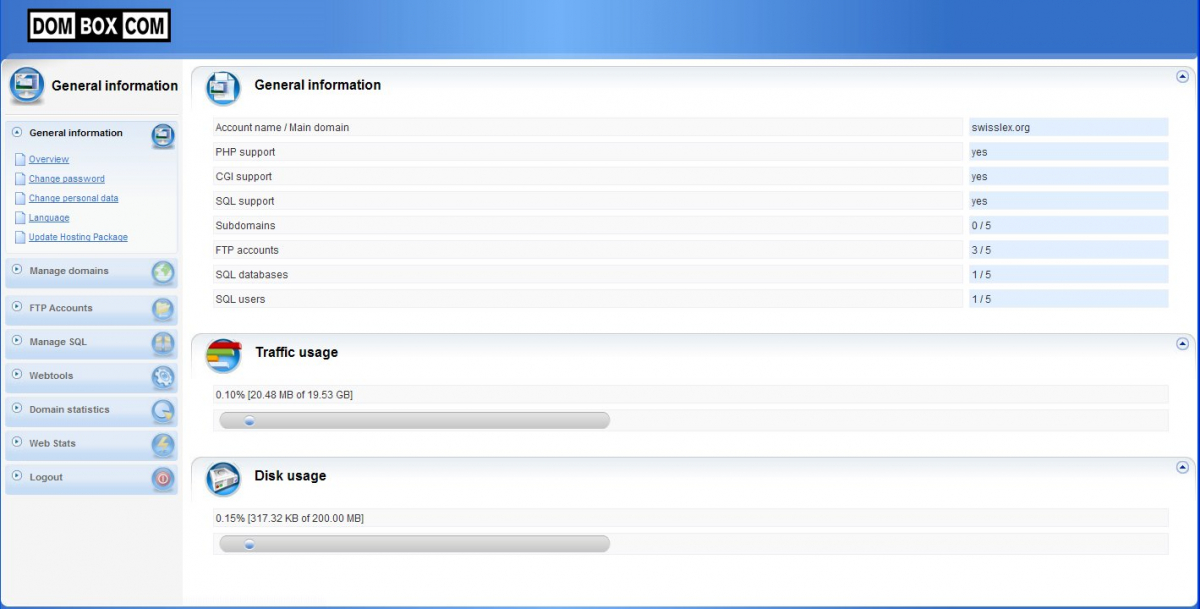 Feature list
| | DomBox Email Account |
| --- | --- |
| Your domain name | yes |
| Maximum mailbox size *can be individually assigned | variable* |
| Access your emails via POP3/IMAP email client | yes |
| Access your emails via browser/web mail | yes |
| Secure email access (SSL) | yes |
| Forward emails to various email addresses, following a rule | yes |
| Forward emails to mobile, pager, fax or letter | yes |
| Delete incoming emails following a rule | yes |
| Refuse incoming emails following a rule | yes |
| User defined autoreply message | yes |
| Number of user defined rules | 20 |
| Maximum number of mailinglists | 7 |
| Maximum number of receivers per mailinglist | 80 |
| Number of alias addresses | 5 |
| Number of allowed external (i.e. non-swissmail.org) email sender addresses | 7 |
| Reminder | yes |
| end SMS and fax messages | yes |
| Maximum mail size | 16 MB |
Email Monitoring
The email monitoring module allows you to get a copy of all incoming and outgoing emails in your domain. You define to which email address the copies will be sent and you can select which accounts will be monitored. Furthermore you can exclude emails like spam or virus infected emails.
Email archiving
The email archiving module allows you to fulfil your legal obligations for business correspondence in your country.
The archiving module makes a copy of all in- and outgoing emails and stores it into an archive.
You can select which accounts will be archived.
A filter function lets you filter out unwanted messages.
Emails within the archive can not be manipulated or deleted.
A search function allows you to search for specific emails.
The archive can be access through web mail or any email client like an ordinary email account.
Furthermore you can use your archive as backup to restore mistakenly deleted emails.
Why DomBox.com?
DomBox.com gives you a powerful, secure and advanced email hosting solution that allows you to handle all your emails in a cost effective, flexible and trusted way.
Low cost (no investments for hardware and software, no operating cost).
7 * 24 h operation and support (no know-how in your company required).
Independent and flexible (worldwide access to your emails).
Secure access to your emails wherever you are.
Available within a one working day.
What is our service level?
Location / Data center
Both data centers are located in Switzerland. They are protected with high security access control(biometric identification) and equipped with all technical equipment needed to protect against power, water and fire incidents. The data centers satisfy the official Swiss banking standard (EBK Richtlinien 99/2).
Servers
All servers have mirrored hard disks to prevent loss of data and to minimize downtimes. All services run in virtual machines, which allows us to react quickly and flexibly to any situation.
Backup
All mailboxes and customer data are backed up daily. We keep the backups for seven days in a second data center in Switzerland and we provide a restoring service* for customers who have lost any emails. *The service is only available for DomBox accounts and Standard/Professional accounts from swissmail.org. Our backup takes a daily snapshot from the mail accounts. Only emails within this snapshot can be restored.
Spam Filter
All email accounts can use our spam filter. Within the ControlCenter you can adjust the settings to your needs.
Viren Scanner
We scan all incoming emails for viruses and drop all infected emails./p>
Up Time
We guarantee an uptime of 99,9% per year (apart from any announced maintenance-driven service breaks). See the current status with our independent monitoring. Please also read our service agreement.What do you need to use DomBox.com?
The only thing you need is an Internet access and a browser or any email client.